[ad_1]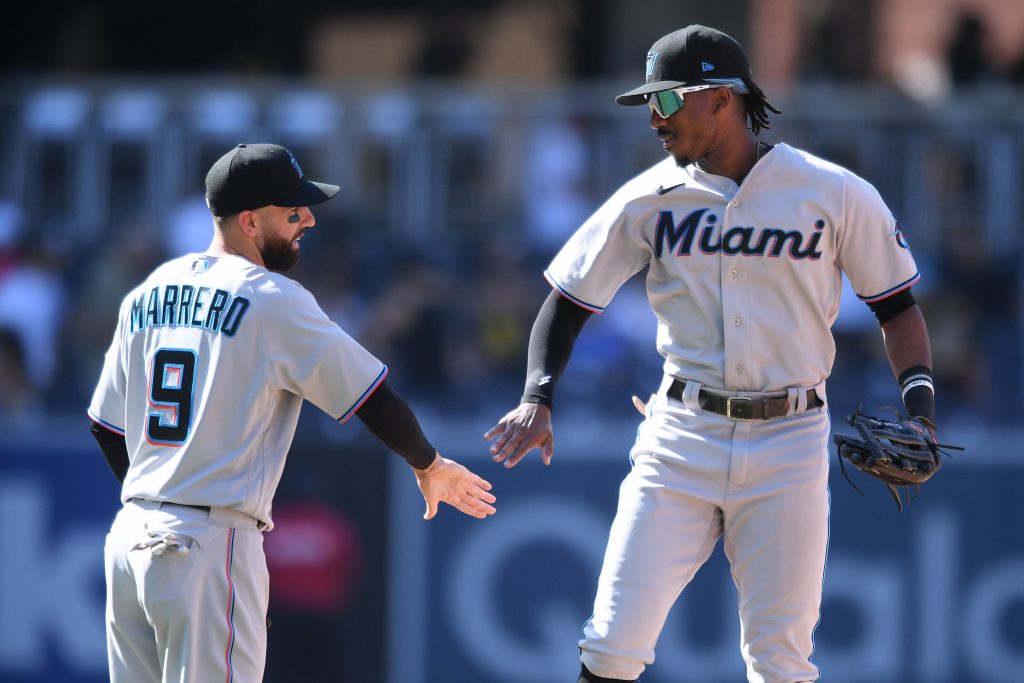 Friday is what I like to call a "must-bet" day. There simply isn't a reason to skip a Friday. During the summer, we have a full MLB slate on Fridays with almost all the games at night. For example, tonight we are looking at 14 games in about a 6-hour period. If you want to maximize your entertainment value, a MLB parlay is a no-brainer. With the way tonight sets up, we can string together 2 games that start at 7:00pm ET and then one that starts at 9:45pm ET and it actually feels like a football Sunday parlay–except it's baseball and it's at night. Here's what I have in mind for tonight.
If this MLB parlay hits, it will go down as the greatest Friday the 13th in gambling history. But don't forget, we also have picks on the side and total for all of today's games. You can also follow me on Twitter just in case there's a game or 2 added to the card. Be smart about this, people.
Miami Marlins -1.5 (+170)
Milwaukee Brewers -2.5 (+120) *alt line
San Francisco Giants -1.5 (+105)
Miami Marlins -1.5 (+170)
It's crazy to see anyone take the Miami Marlins at -1.5 but I think it's the way to go tonight. We aren't really betting the Marlins as much as we are betting against the Chicago Cubs. They've won once in their last 11 games and the last 7 have been by at least 2 runs. There are AAA teams that could beat this version of the Cubs. They are coming off of a 4-game set with the Milwaukee Brewers where they were outscored 37-9; that's terrible. I know Jesus Luzardo is on the hill for the Marlins but in the one game he pitched in the NL outside of Colorado, they won 6-3. The way to go about convincing yourself that the Marlins are the play here is to ask yourself, "Self, would I bet the Cubs +1.5 tonight?" Of course you wouldn't. Play the Marlins to start the MLB parlay.
Check out our full game preview for Chicago Cubs vs Miami Marlins
Milwaukee Brewers -2.5 (+120) *alt line
I get that the Brewers played the Cubs last series, but they are smashing baseballs at the moment. We also don't know that they aren't bullies who like to beat up on bad teams. If they are, we should be good here because the Pittsburgh Pirates are a bad team. Like really bad. They have now lost 8 straight games and 5 of them have been by at least 3 runs. They've played 2 series against the Brewers in the last 3 weeks and lost 5 of the 6 games. In one of the series they were outscored 28-3 and lost every game by a minimum of 4 runs. Milwaukee is sending Brett Anderson to the mound who's only starts against the Pirates this season have ended 7-1 and 9-0. The Brew Crew fits perfectly into this MLB parlay.
Check out our full game preview for Milwaukee Brewers vs Pittsburgh Pirates

San Francisco Giants -1.5 (+105)
If things go our way in the early games, we'll get to watch the San Francisco Giants smash the Colorado Rockies to bring home the MLB parlay. If things don't go our way early, we can just take the Giants to blow out the Rockies in a straight bet and get our money from the parlay back. We have options people. I'll keep this short. The Rockies stink on the road. They re hitting .210 with a .610 OPS on the streets this season. They've faced Anthony DeSclafani twice in San Francisco this season and those games ended 4-0 and 12-0. I don't know anybody in the world that could sell me on betting the Rockies to do anything other than get smoked tonight. This one is a perfect fit into our MLB parlay.
Check out our full game preview for Colorado Rockies vs San Francisco Giants
Pickswise is the home of free MLB picks and predictions. Make sure to also check out our MLB parlays and MLB prop bets tabs for more expert picks. 
The post MLB Friday three-leg mega parlay (+1117 odds): Marlins roll Cubs appeared first on Pickswise.


[ad_2]

Source link