[ad_1]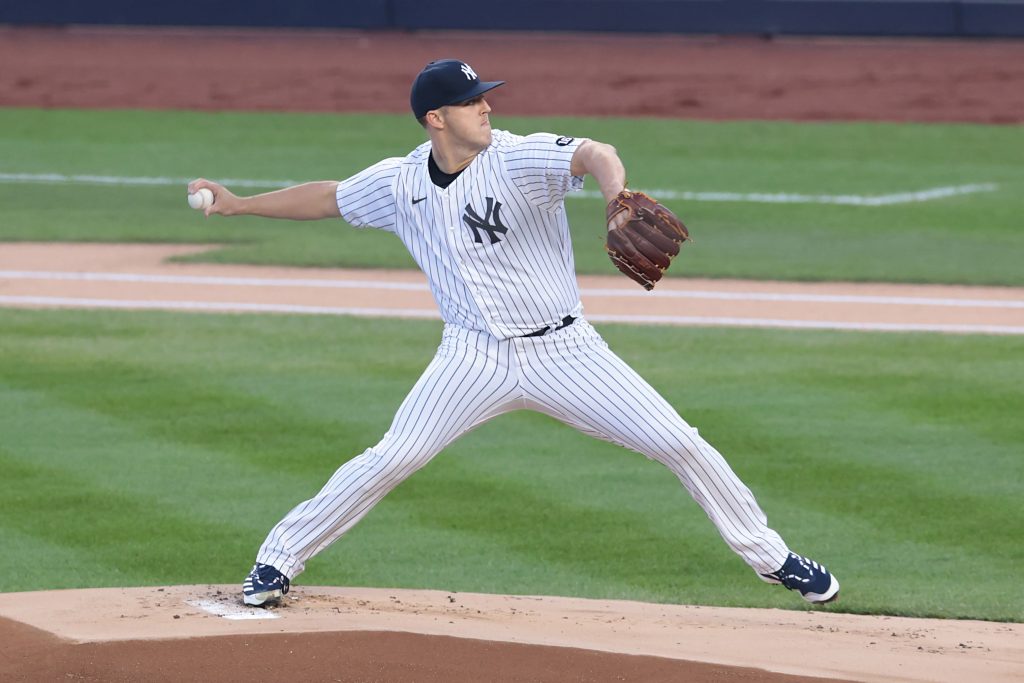 A lot of teams are in between series, but we still have a 10-game slate in Major League Baseball on Thursday. Six of those are afternoon specials, while the night schedule features the New York Yankees, New York Mets, Los Angeles Dodgers, and Milwaukee Brewers. The red-hot Yankees are going up against the Minnesota Twins, and this contest is getting the same game parlay treatment it deserves. Be sure to check out our full game preview for picks on the side and total, as well.
New York Yankees -1.5 (-148)
Jameson Taillon to record 7+ strikeouts (+185)
Aaron Judge to hit a home run (+270)
Part of the value in same game parlays, of course, is that all of its components can be correlated if you so choose. That is the entire plan here, as Jameson Taillon mowing down Minnesota batters left and right plus Aaron Judge going deep would obviously work well with a New York win. Let's break down each of the legs one by one.
New York Yankees -1.5 (-148)
It is true that the Twins have won 4 of their last 5 games, but they aren't as hot—and simply not as good—as the Yankees. The Bronx Bombers are coming off a 3-game sweep of the Boston Red Sox and have won 6 in a row overall. They have not lost since last week's Field of Dreams thriller against the Chicago White Sox. Having Anthony Rizzo back in the lineup only helps matters. Even more important for Thursday purposes is that Jameson Taillon is taking the mound. The right-hander heads into this matchup with a 3.89 ERA and 1.22 WHIP, and starting at home has given him a big advantage this season. His ERA drops to 3.22 with a 1.09 WHIP and New York has won his last four starts at Yankee Stadium by an average of 7 runs. Taillon has been especially on fire since the All-Star break, so Minnesota's offense will have its hands full. It's hard to see Twins starter John Gant keeping his team especially competitive.
Jameson Taillon to record 7+ strikeouts (+185)
The longer you work, the better chance you have of racking up big strikeout numbers. And the better you pitch, the longer you work. It isn't rocket science. Taillon is in awesome form right now and should be on course for another innings-eating performance at the Twins' expense. The 29-year-old is sporting a 1.53 ERA since the All-Star break; he has not allowed more than 3 runs in 8 straight starts — including 0 earned runs on 3 of those occasions. It's not like he has been beating up the bad competition either, as he has faced the Red Sox, White Sox, and Astros during this stretch. His 23.4% strikeout rate is the highest of his career.
Aaron Judge to hit a home run (+270)
Judge homered twice in the Field of Dreams Game and left the yard again in the Yankees' second game of that series against the White Sox. The star right fielder now has 26 HRs on the season to go along with his 63 RBIs and .286 average. Minnesota is going with a bullpen day, so Judge will get looks at lot of different pitchers and will have a good chance of victimizing at least one.
Pickswise is the home of free MLB Picks and Predictions. Check out the latest MLB Prop Bets and MLB Parlays as well as our MLB Best Bets from the experts.
The post MLB Thursday same game parlay (+1276): Minnesota Twins vs New York Yankees appeared first on Pickswise.
[ad_2]

Source link