[ad_1]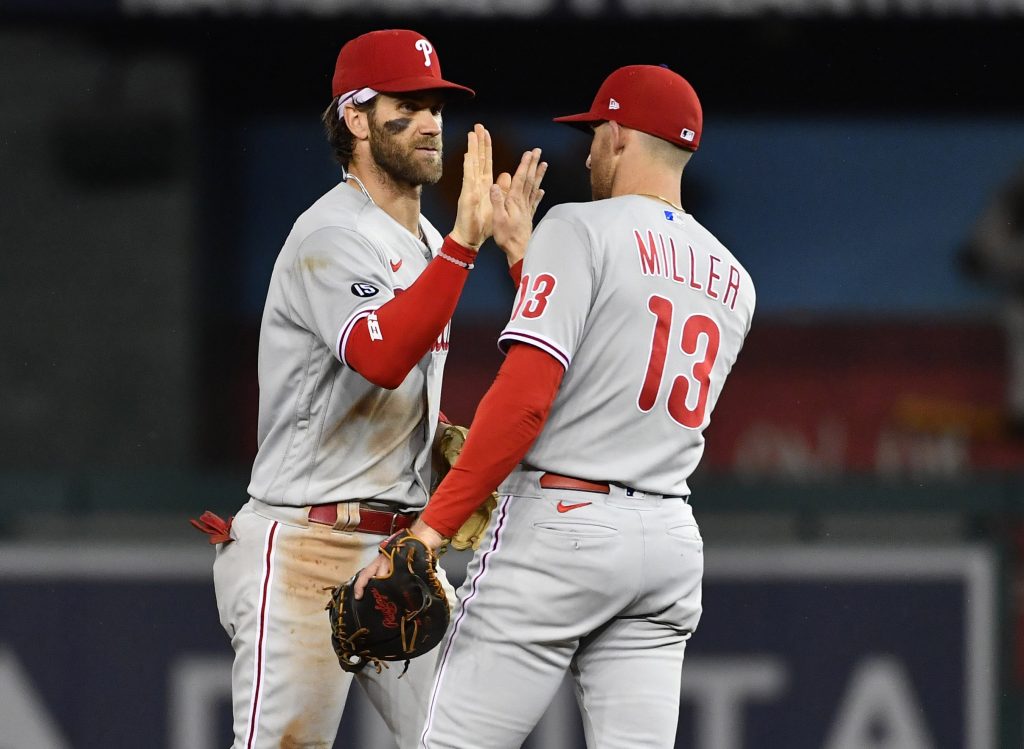 Was last night amazing? That question can be answered with one word; yes. The MLB Mega Parlay cashed with ease and if we're being honest, it was almost too easy. As much as I want to take credit, I can't. It was the PicksWise MLB team just doing their job. It just goes to show what can happen when you follow the right people. The only question now is, can we do it again tonight?
If this MLB parlay hits, we will never forget this day. But remember, we also have picks on the side and total for all of today's games. Parlays are only part of our arsenal. You can also follow me on Twitter just in case there's a game or two added to the card. Be smart about this people.
Philadelphia Phillies -1.5 (-104)
New York Yankees -1.5 (-152)
Toronto Blue Jays -1.5 (-140)
Boston Red Sox vs Tampa Bay Rays under 7.5 (-108)
Philadelphia Phillies -1.5 (-104)
The Philadelphia Phillies are kind of back a the moment. They've won 5 straight games and even though those wins are coming against bad teams, they still count. Not only are they winning, they are bodying the bottom feeders. Each of their last 4 wins have been by at least 3 runs which is why our team has them circled as an MLB Best Bet tonight. Aaron Nola takes the mound for Philadelphia and while he hasn't been great this season, he has been good enough. Outside of Juan Soto and Josh Bell, the Nationals really don't pose much of a threat offensively so if he can give us 5 to 6 innings, we should be good. Washington will need runs because they're sending Paolo Espino to the bump and if he doesn't give up runs, the Nationals' bullpen will. Over the last week only one bullpen in MLB has a worse ERA than the Nationals'. The Phillies should run away with this one and give our MLB parlay some life.
Check out our full game preview for Philadelphia Phillies vs Washington Nationals
New York Yankees -1.5 (-152)
Another beatdown our team has circled is the New York Yankees over the Los Angeles Angels. The issue here for the Angels is two-fold. For starters, they are only batting .228 over the last week and they face Gerrit Cole tonight. Over his last 17.2 innings of work Cole has only allowed 1 earned run. That's going to be a problem given the fact that the Angels are sending Packy Naughton to the mound. Look, the kid has a fantastic name. Nobody is arguing that. Plus last time I saw him he had a mullet so points there. He might even be in play in the strikeout market but I highly doubt the Angels' bats are going to support him the way they need to against a guy like Cole. On top of that, once Naughton leaves, the Angels bullpen is sure to give up a few runs. Over the last week only 2 teams in MLB have a worse ERA. The Yankees -1.5 belongs in this MLB parlay.
Check out our full game preview for Los Angeles Angels vs New York Yankees

Toronto Blue Jays -1.5 (-140)
Sticking with the beatdown theme, our team loves the Toronto Blue Jays -1.5 tonight. They slapped a sweet, 2-star rating on this bad boy and one look at the pitching matchup tells us why. After looking "not awful" in July, August brought out the most awful version of Matt Harvey. For starters, the Orioles lost all 5 of his starts in the month of August. That's actually impressive because it's not easy to do. What's more impressive is the fact that Baltimore lost 4 of the 5 starts by at least 3 runs. Sending a guy like that to take on a top 10 MLB offense doesn't feel like a fair fight. I don't know how anyone could back Baltimore tonight. The Blue Jays are clearly the play and should keep the MLB parlay alive.
Check out our full game preview for Baltimore Orioles vs Toronto Blue Jays
Boston Red Sox vs Tampa Bay Rays under 7.5 (-108)
As much as I hate to do it, an under is once again rearing it's ugly head in this parlay. For that I'm sorry, but the team tossed a 2-star rating so it's go time. First off, the Red Sox have COVID-19 so that's a problem. But 1 Red Sox player that doesn't have COVID-19 is Chris Sale and he's starting tonight. He's only given up 4 runs in 15.1 innings pitched since coming back from Tommy John surgery. He'll need to be at his best because the Rays are a step up in competition level from what he's seen so far. History tells us he can. He'll be opposed by Drew Rasmussen who has been very good recently. Rays' opponents haven't scored more than 2 runs in 4 of his last 5 starts so we can hang our hats on that. With Boston being depleted, we could be looking at another one of his starts ending with the opponent staying quiet.
Check out our full game preview for Boston Red Sox vs Tampa Bay Rays
Pickswise is the home of free MLB picks and predictions. Make sure to also check out our MLB parlays and MLB prop bets tabs for more expert picks. 
The post MLB Wednesday four-leg mega parlay (+973 odds): Phillies wax Nationals appeared first on Pickswise.


[ad_2]

Source link