[ad_1]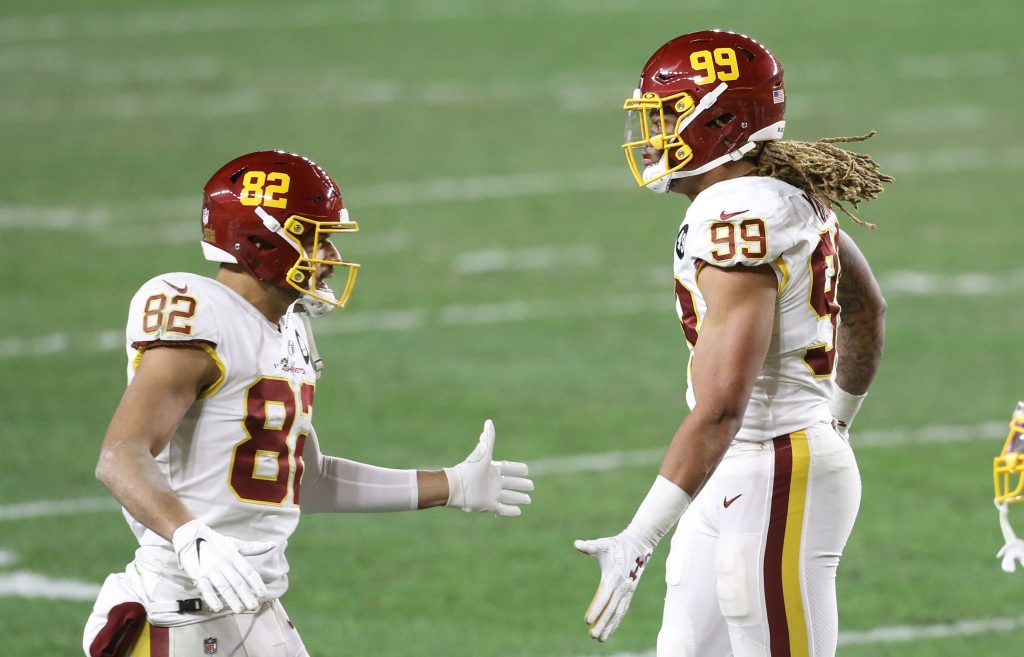 At long last the 2021 NFL season here. The Tampa Bay Buccaneers and Dallas Cowboys kicked things off on Thursday night, while the remaining teams will take the field on Sunday and Monday. Sunday's schedule is highlighted by a showdown between the Green Bay Packers and New Orleans Saints and a rematch of last year's AFC divisional round between the Kansas City Chiefs and Cleveland Browns.
Here is our Week 1 millionaire parlay.
Atlanta Falcons over Philadelphia Eagles

For the Eagles, this game one under new head coach Nick Sirianni and game one with Jalen Hurts as the full-time starter at quarterback. Beating anyone on the road may be too much to ask.
Buffalo Bills over Pittsburgh Steelers
The Bills are giving almost a touchdown to the Steelers, which may be too much. On the money line, though, I will happily take Josh Allen and this up-and-coming Buffalo team.
Minnesota Vikings over Cincinnati Bengals
This will probably be another close one in which the underdog is getting enough points to cover. That being said, Joe Burrow is a question mark as he returns from his ACL injury.
San Francisco 49ers over Detroit Lions
It's a new era in Detroit with a new head coach and new quarterback. That the past era is over certainly isn't a bad thing, but this one may take a long while before it starts seeing success.
Tennessee Titans over Arizona Cardinals
The Titans are realistic contenders in the AFC with Derrick Henry, Julio Jones, and Ryan Tannehill running the offense. I'm not sure the Cardinals can keep up in a shootout.
Seattle Seahawks over Indianapolis Colts
This could be one of the best games of the opening week. But at quarterback it's Russell Wilson vs. Carson Wentz and I'm not taking Wentz in that matchup.
Washington Football Team over Los Angeles Chargers
Basically everyone is drinking the Chargers Kool-Aid heading into this season. Justin Herbert is the real deal, but I want to see more from others before I do the same. This is a tough test against TWFT defense.
New York Jets over Carolina Panthers
I don't think either one of these teams is going to be good. But what the heck, I'll throw my eggs into the Zach Wilson and Robert Saleh basket.
Jacksonville Jaguars over Houston Texans
Houston is quite simply the worst team in the NFL. Jacksonville may not be much better, but Trevor Lawrence should begin his career in the win column.
Kansas City Chiefs over Cleveland Browns
If this was in Cleveland the Browns may have a chance. I'm not seeing them go on the road and pulling off a season-opening upset of Patrick Mahomes and the two-time defending AFC champions.
Miami Dolphins over New England Patriots
One of the few division rivalry games in Week 1 sees Miami pay a visit to New England. I don't have a ton of faith in Mac Jones solving the Dolphins' defense in his NFL debut.
Green Bay Packers over New Orleans Saints
There is no need to overthink this one. One team still has its Super Bowl-winning quarterback; the other does not.
New York Giants over Denver Broncos
Saquon Barkley is reportedly 100 percent and ready to go for the season opener. Even without Barkley I would take the Giants to beat the Broncos at home.
Los Angeles Rams over Chicago Bears
The Rams now boast a capable veteran quarterback in the form of Matthew Stafford. Now their offense is good enough to support Aaron Donald and the defense.
14-team parlay pays out +170063!
Pickswise is the home of free NFL Predictions  and NFL Odds. Check out the latest NFL Prop Bets and NFL Parlays as well as expert NFL Underdog Picks and NFL Computer Picks. 
The post NFL Week 1 millionaire money line parlay for Sunday's schedule appeared first on Pickswise.
[ad_2]

Source link