[ad_1]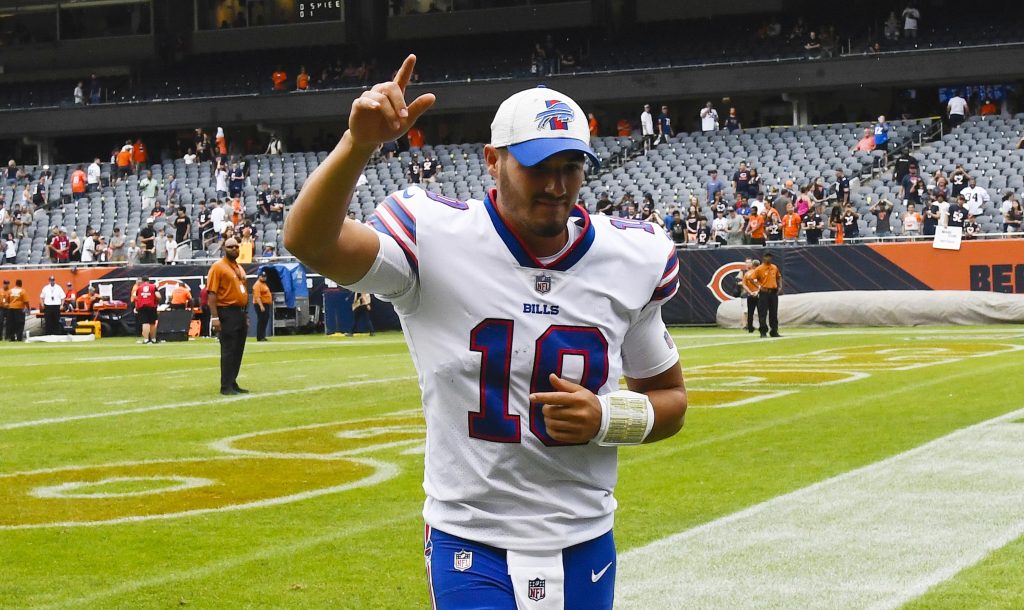 NFL football is officially back in full swing. It feels good to say that again. The first week of the preseason had a lot of excitement as we were treated to the pro debuts of all the top rookie quarterbacks, but I think the second week told us even more about the upcoming 2021 season. We've still got one game left to go before Week 2 is in the books, a Monday Night Football showdown between the Jaguars and Saints. Make sure to check out our picks on the side and total for Jacksonville vs New Orleans.
We've also still got a ways to go before the regular season, which means there's still time to get in on all our free futures bets, which you can find in our NFL news tab. But before we get to September, let's digest together what we just witnessed over the weekend. Here we go:
Maybe Matt Nagy was the problem
Mitchell Trubisky got a shot at revenge against his old team on Saturday, and boy did he take advantage of that opportunity. Now Josh Allen's backup in Buffalo, Trubisky absolutely torched the Bears at Soldier Field as the Bills demolished the Bears 41-15. The former second overall pick finished 20/28 for 221 yards and a touchdown. Sure it was just a preseason game but it was the best Trubisky has looked in years, and the performance made it hard not to wonder if maybe Chicago head coach Matt Nagy had been holding him back.
Everyone wrote Trubs off during his time with the Bears, but it's not like Nagy's offense was much better with Nick Foles at the helm last year. Nagy's seat is scorching hot entering the 2021 season, and it certainly didn't help his case that Justin Fields went only 9/19 for 80 yards on Saturday. If Nagy doesn't develop Fields, and quickly, he's going to find himself out of a job sooner rather than later. The pressure was already on, but after Saturday he's got to be feeling the heat more than ever.
Mitchell Trubisky revenge game in Chicago 😈

The Bills (+4) lead the Bears 13-0 in the 1st quarter.

— Pickswise (@Pickswise) August 21, 2021
Tua takes charge
To settle everyone's nerves, Tua Tagovailoa needed a preseason game like this. The young Dolphins quarterback had a tumultuous first year in the pros, and this past offseason had an abundance of drama. There were anonymous Miami players trashing him in the media, and whispers that the Dolphins could use a first-round pick on another quarterback. Ultimately the team decided to cast all their chips with Tagovailoa, and he turned in a very promising effort this weekend.
Playing the entirety of the first half he was efficient and didn't make any mistakes, leading touchdown drives on each of his first two possessions. He also did it without most of his top weapons including receivers DeVante Parker and Will Fuller. With Fuller and rookie first-rounder Jaylen Waddle added to the mix, Tagovailoa can no longer complain about his lack of weapons. He needs to take an immediate leap, and this was an encouraging sign.
Big Ben bounce back?
Speaking of quarterbacks that most people wrote off, Ben Roethlisberger decided to remind everyone he's still got something left in the tank over the weekend. The Steelers completely collapsed down the stretch last season, causing most analysts to declare that Roethlisberger's arm was cooked. Against the Lions in Week 2 of the preseason, Big Ben said not so fast.
He threw things back a decade and looked like he was in his physical prime, going 8/10 for 137 yards and two touchdowns. Pittsburgh has become somewhat of an afterthought in the national discussion, despite the fact that they started last year 11-0. You can get them at around 40/1 to win the Super Bowl at most shops, and after watching Roethlisberger look good as ever on Saturday, I'm willing to take a nibble at that price. The defense still has the potential to be elite, and he's still got plenty of weapons at his disposal.
The post Three things we learned from NFL preseason Week 2: Maybe Matt Nagy was the problem all along… appeared first on Pickswise.


[ad_2]

Source link