[ad_1]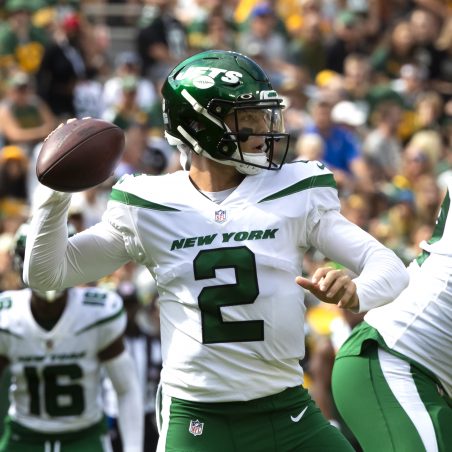 In almost exactly one week, the 2021 NFL regular season will get underway. The Tampa Bay Buccaneers will kick off Week 1, and their Super Bowl title defense, by hosting the Dallas Cowboys on Thursday. Week 1 is a magical time of year, when every team's hopes and dreams are still alive and well.
It can also be tough to navigate from a betting perspective. You've got to work hard to find an edge in NFL games at any time, but Week 1, in particular, can be tricky. There's a lot that's impossible to know before teams have played any meaningful snaps. With that in mind, today we'll be talking about my favorite strategies for betting Week 1 NFL games. There's still time to get in our futures bets, which you can find in our 'NFL news' section, but right now we're talking these initial regular-season games.
1. Don't overreact to the preseason
It can be hard not to allow the preseason to cloud your judgment. It's what is freshest in everybody's brains, and we just spent three weeks watching it. But you pretty much have to throw it out the window when handicapping Week 1. If you want to bet the Jets in Week 1 over the Panthers, bet them because you believe you have an edge based on factors that aren't being accounted for by the point spread. Don't bet them because Zach Wilson put up some great numbers during the preseason.
It's not at all uncommon for a team to go undefeated in the preseason, and then turn out to be one of the worst teams in the league. My favorite example is the 2017 Browns. Cleveland went 4-0 in exhibition action, leading plenty of fans to get excited and speculate they might surprise some people that year. They proceeded to go 0-16 in the regular season. Don't let recency bias bite you.
2. Variance is higher in Week 1
If there is any time to bank on a big upset, it's in Week 1. It's the first real action for everybody, and variance is a lot higher as a result. If you're looking to take a big money line underdog, now might be your chance. Every year big upsets happen in Week 1 that turn out to be huge flukes and outliers. Just take a look at last year.
The Colts shockingly lost outright to the Jaguars as favorites of more than a touchdown. Indianapolis ended up going 11-4 the rest of the way, while Jacksonville lost 15 straight games after that. A similar result will likely happen again this time around. Find a big underdog that you know will come out highly motivated to prove everybody wrong in the first game of the season, and sprinkle a few bucks on their money line.
3. Coaching is everything
One of the most unique parts about Week 1 is how long the run-up to the games is. On a normal Sunday, each team has had about a week to prepare for one another. In Week 1, each team has had all offseason to get ready for one opponent. That dynamic favors coaches who do well with extra prep time, specifically offensive minds who can scheme up creative opening scripts.
Everyone is aware of how dominant Andy Reid usually is coming off a bye week, when he's had an extra week to draw stuff up. It's a similar situation here, the best offensive minds will have a big advantage, because they'll have been cooking stuff up over the past few months that nobody has seen on film yet. If there's a spot you already like featuring a coach like Reid, Sean McVay, Kyle Shanahan etc., this is a factor that might make that bet even more appealing.
The post Three tips on how to bet Week 1 NFL games: Throw the preseason out the window appeared first on Pickswise.
[ad_2]

Source link